Bee-utiful Spring: Embroidery Patterns for Busy Bees
If you're looking for a way to add a pop of spring to your home decor, look no further than the Bee-utiful QAL (quilt along)! This fun and easy project is perfect for quilters of all skill levels, and the end result will be a beautiful embroidered quilt that is sure to impress.
What is the Bee-utiful QAL?
The Bee-utiful QAL is a quilting project that features a variety of blocks, each one showcasing a different bee-related theme. From Bee Kind to Bee Happy, each block is designed to celebrate the beauty of these important pollinators while also providing a fun and unique quilting challenge.
Bee Kind Block
How to Participate
If you're interested in participating in the Bee-utiful QAL, there are a few different options available. Some quilters prefer to work independently, using the pattern provided by Moda Bake Shop to create their own unique embroidered blocks. Others prefer to join a group or online community, where they can share tips, tricks, and inspiration with other quilters around the world.
Work in Progress
Materials Needed
To participate in the Bee-utiful QAL, you'll need a few basic quilting supplies, including:
Fabric (in a variety of fun and bright colors)
Embroidery thread (in a range of bee-inspired hues)
A sewing machine
Embroidery hoop
Basic sewing supplies (such as scissors, needles, and thread)
Block Examples
Each block in the Bee-utiful QAL is designed to showcase a different aspect of bee life, from their love of flowers to their vital role in pollination. Here are just a few examples of the fun and unique blocks you could create:
Bee-utiful Spring Card
Bee Good Block
This block features an adorable cartoon bee with the words "Bee Good" embroidered on top. It's a fun and playful design that is sure to delight quilters of all ages.
Bee Good Block
Bee Happy Block
This block features a cheerful bee surrounded by a variety of flowers, with the words "Bee Happy" embroidered above. It's a heartwarming design that is perfect for spreading a little joy and positivity.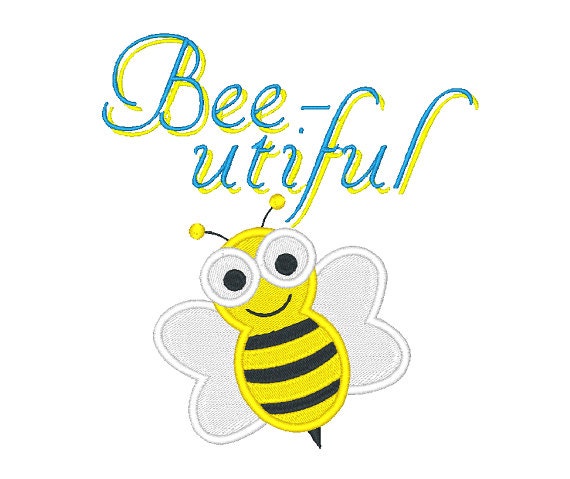 Children's Embroidery Design
Bee Kind Block
This block features a sweet bee with outstretched wings, paired with the words "Bee Kind" to remind us to always treat others with kindness and compassion.
Bee Kind Block
Final Thoughts
Whether you're an experienced quilter or just getting started, the Bee-utiful QAL is a fun and rewarding project that is sure to brighten up any space in your home. So grab your fabric and embroidery thread, and get started on your very own bee-inspired quilt today!